The Leading Digital Business Card Platform for Enterprises & Teams
Collect more leads, modernize your teams, and maximize your revenue with Mycard Teams.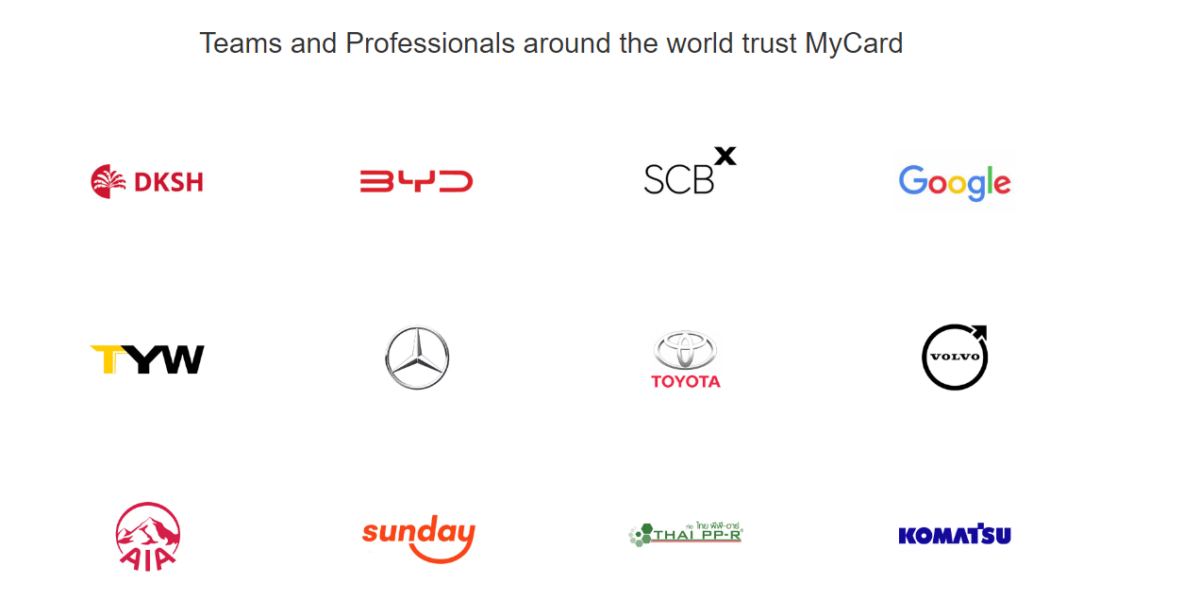 Interested in a free month trial?
Fill out the form below: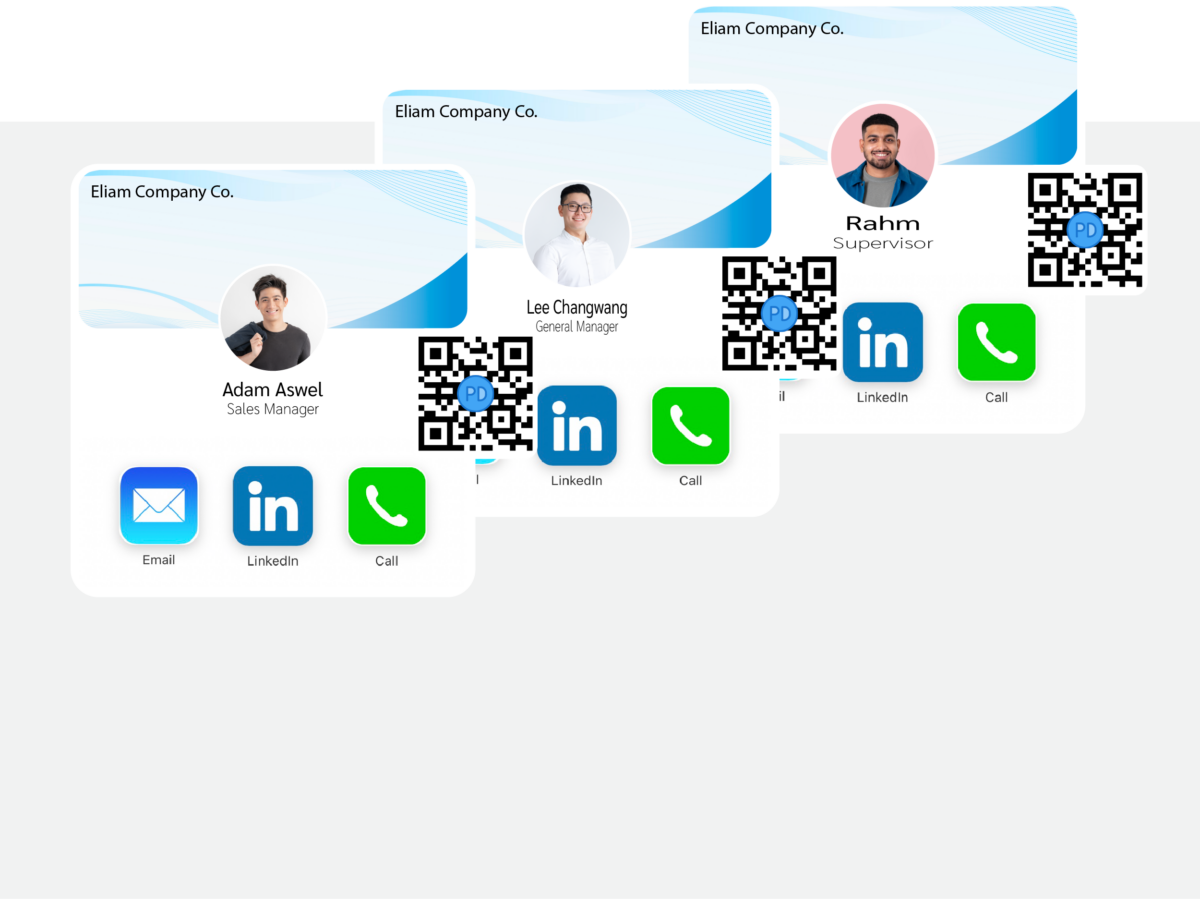 Digital Business Cards
Create, distribute, and manage digital business cards across your team for sharing important company info.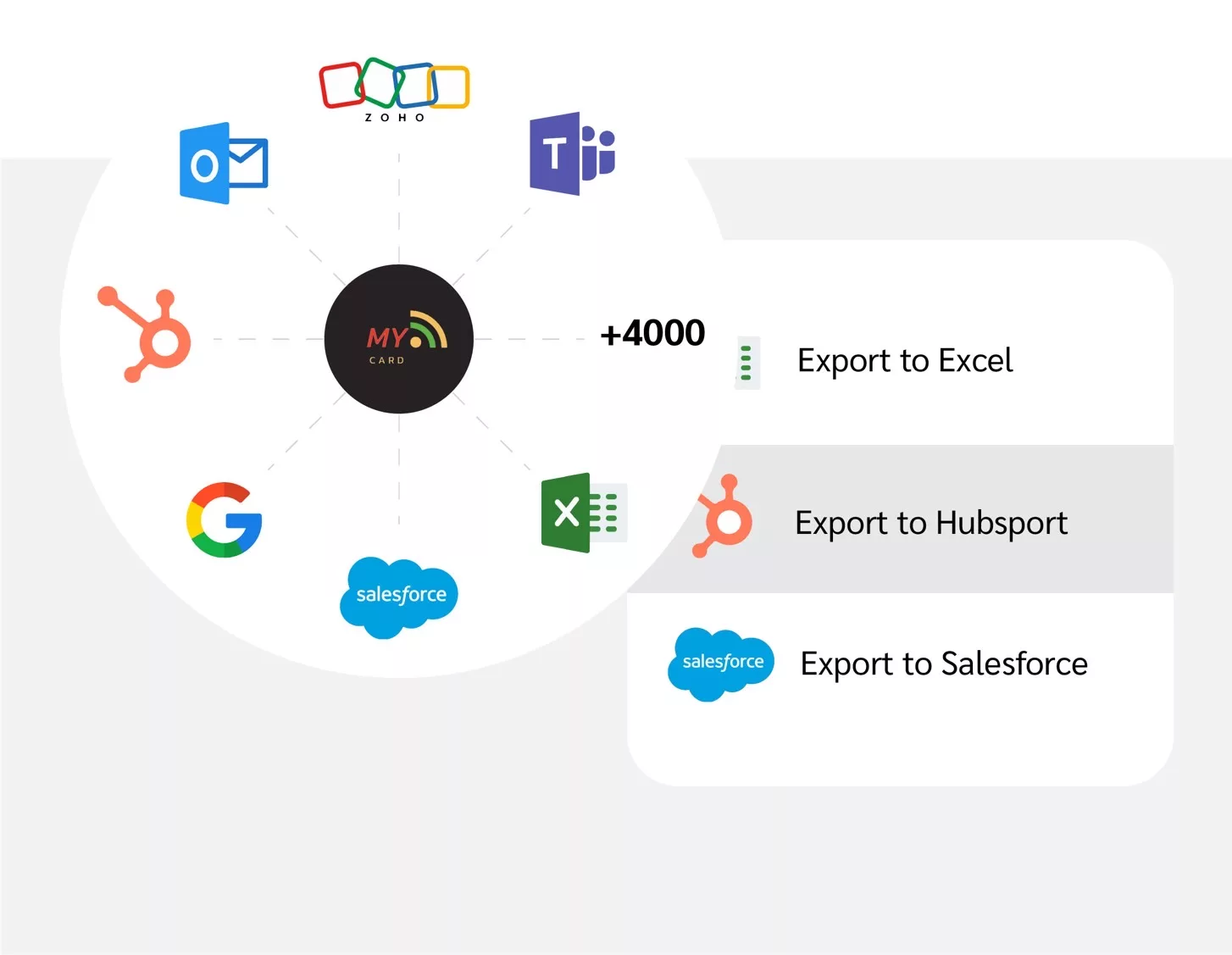 5000+ Integrations
Export to CRMs, sync team members from HR platforms, automate data entry, create marketing flows, and more.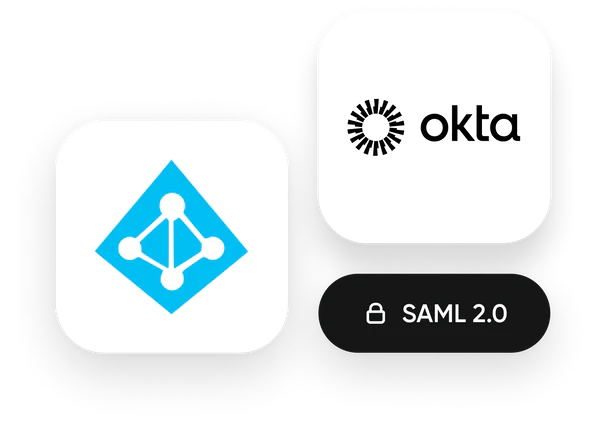 Fully Secure Logins
Connect to your existing SSO logins through Azure or Okta SAML 2.0 to ensure secure authentication company wide. No additional passwords needed.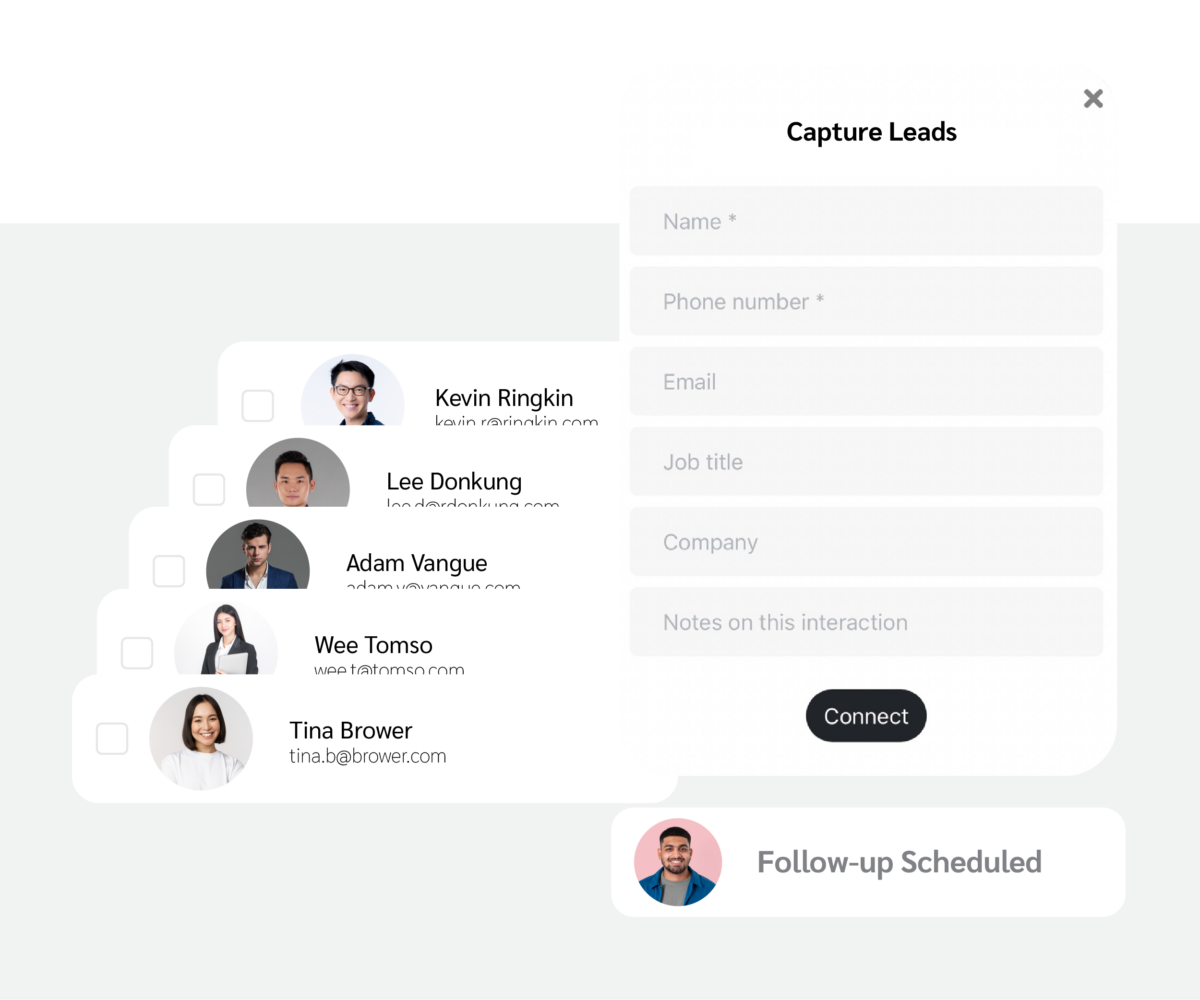 Leads Management
Collect 300% more leads than your industry standard. View, manage, and export team-wide leads with one central contact book.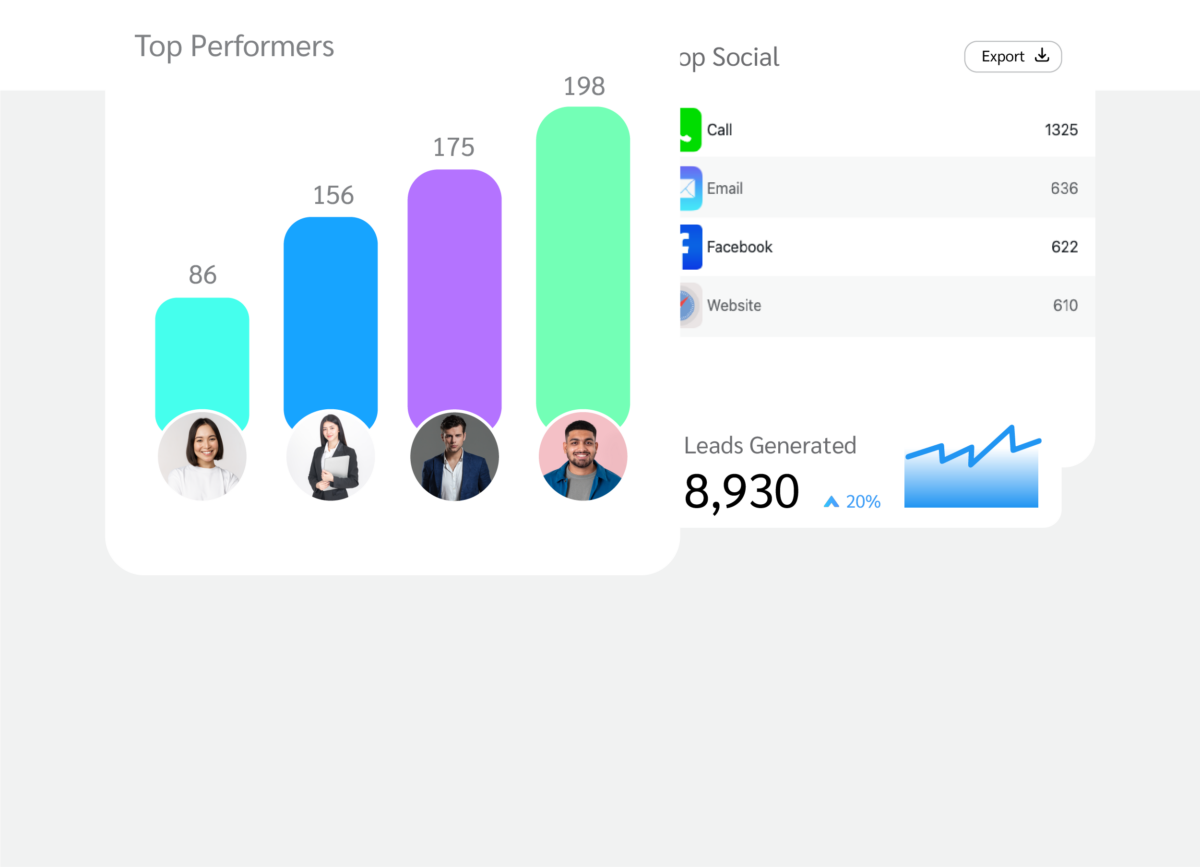 Measure ROI at Events
Measure key KPIs, identify top performers, and learn the ins-and-outs of your team. Export your data at any time.

Why We're The #1 Platform for Enterprise
Share Instantly
Instantly share your info with a tap, scan, or send. Share contact info, social media, websites, payment apps, files, videos and more.
Tap

Just tap one of our smart accessories to an iPhone or Android to share without them needing an app.
Scan

Use your free, in-app Mycard QR code with advanced analytics and unlimited scans.
Send

Send your digital business card via text message, email, Airdrop, email signatures, Zoom backgrounds, iPhone widgets and more.
Capture Leads
Capture leads from your profile, then favorite, group, sort, and manage them all in Mycard Sync with CRM's like Salesforce and HubSpot.
Business Card Scanner

Instantly convert paper business cards into digital connections with our AI-powered scanner.
Lead Capture Mode

Quickly capture leads with fast autofill as soon as you share your profile with others.
Your Info, Saved

Mycard automatically sends your info to leads via email and text message so you don't have to. This gets your more replies so you can close more deals.
Export to CRM
Mycard is the fastest way to convert in-person connections into CRM leads without any manual data entry.
Yes it works with your CRM!

We integrate directly with Salesforce, HubSpot, Outlook, Zoho and many others.
For Teams

Export all leads collected by your team while keeping track of lead owners, locations, and notes.
Integrate with 4000+ apps

Sync team members from HR platforms, automate data-entry and marketing flows, set up Zapier integrations, the possibilities are endless.
Grow Faster
Make more connections, more leads, and more sales with Mycard Connect online at the moment of meeting, rather than hoping they do later.
Business Intelligence

Access data that allows you to finally measure true ROI of your networking and events.
More Review & Engagement

Increase engagement on social media platforms and gather more 5 star reviews than ever before.
24/7 1-on-1 Support

Create your digital business card to perfection with our 24/7 1-on-1 assistance. We are the only digital business card company that offers this.
10,000+
Global Professionals and teams trust Mycard Teams as their digital business card provider
100 Million+
Digital Business Card interactions across the word (Market leader)
4.9/5
Highest Rated in the space of G2, Capterra, and the App Store
Share With Anyone
Others don't need an app or a Mycard device to receive.
Card Templates
Use templates and bulk edits to maintain cards at scale.
SOC 2 + GDPR
Your data is fully secure and never shared.
24/7 Support
We're here to help with free setup, onboarding, and more.
Unlimited Cards
As your team grows, we grow with you.
Free Smart Products
Choose from our industry leading selection of devices.
Create Sub-teams
Organize your team with subteams and groups.
5 Star Ratings
Members can share on the go using our top rated website.
Industry Leading Sales Management Platform
Team and Device Management
Mycard Teams makes it easy to manage every member of your team with templates, subteams, card duplication, and bulk edits.
As employees join or leave, you can create, reassign, or deactivate Mycard devices and QR codes. Flexibility is key as your business evolves.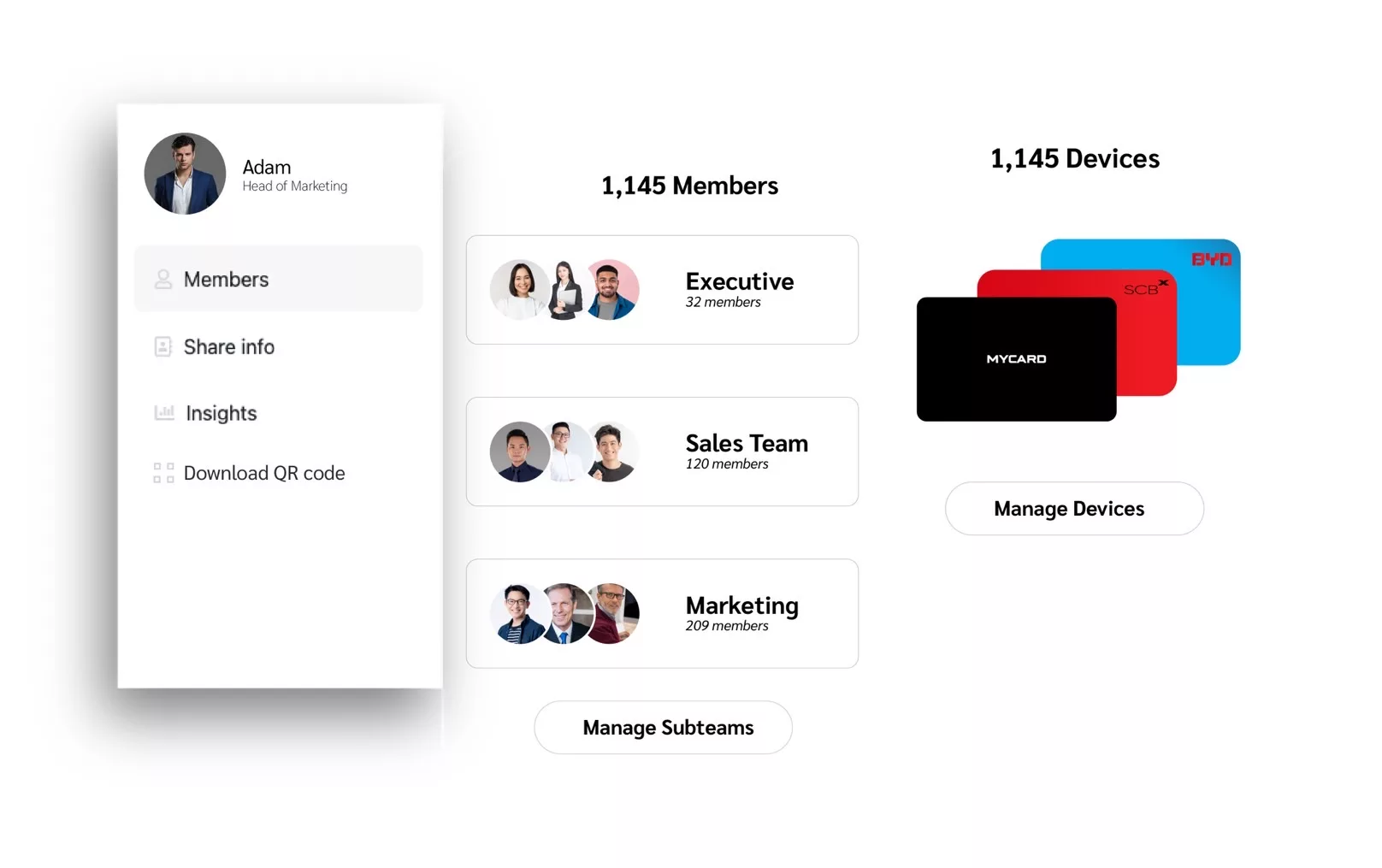 5000+ Integrations
As the market leader, Mycard Teams has the most customizable integrations for connecting CRMs, HR platforms, and marketing flows.
Mycard Teams syncs 100% of your team's leads to your CRM, compared to the typical industry rate of only 30%. Turn on Auto Sync™ to instantly send new leads to any CRM and completely eliminate data entry for your entire team.
Explore over 5000+ integrations with our built in integrations and Zapier app.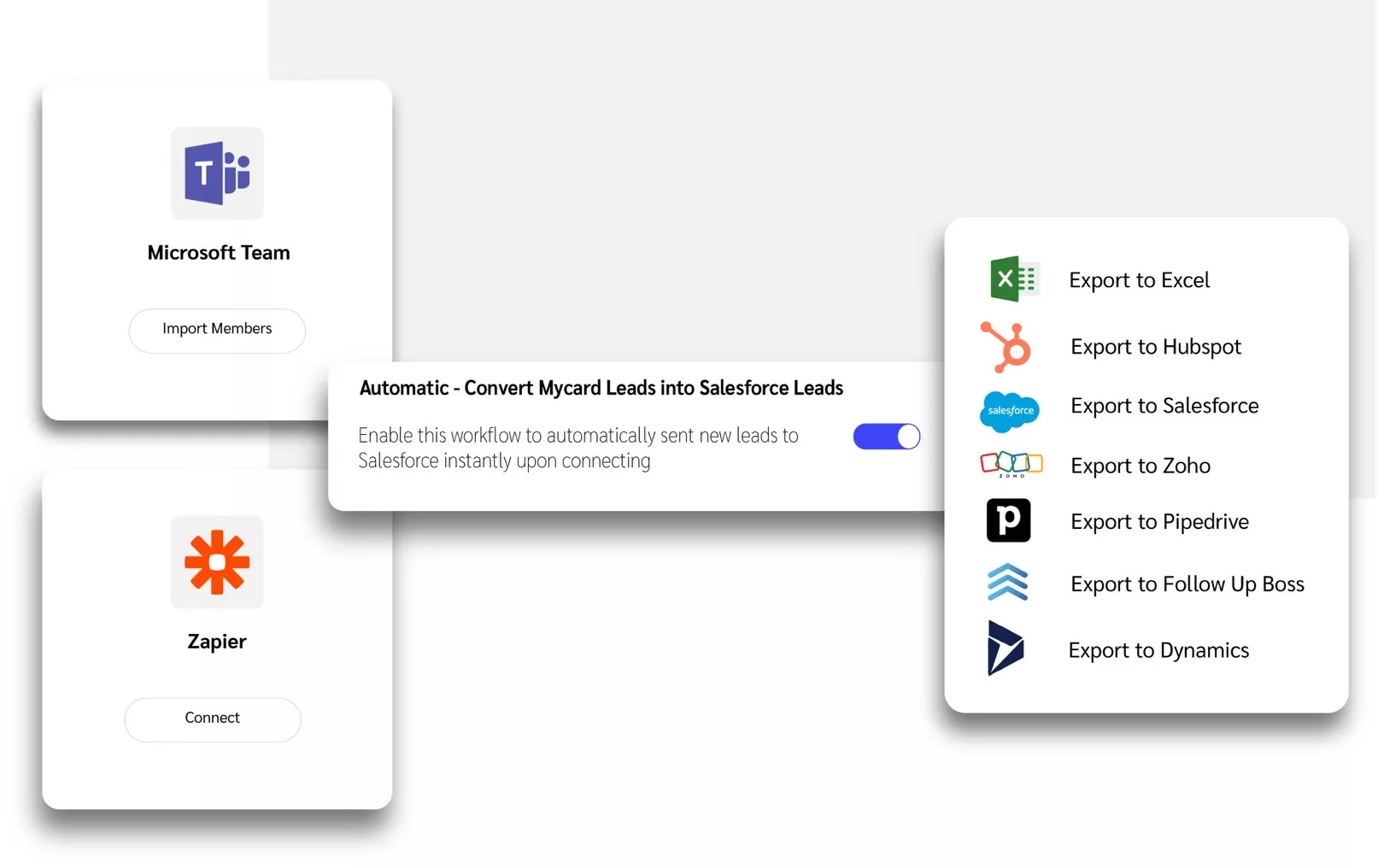 People and Teams love Mycard
"Mycard is the perfect digital business card.."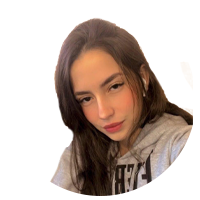 Paola Raf
Sales Manager of real Estate
"Mycard make your contacts just a tap away."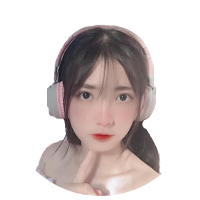 Edwina Rios
DJ.
"The ability to be top of mind with a new contact, with such an efficient lead capture tool like Mycard, makes the success of your business ventures that much more realistic and profitable"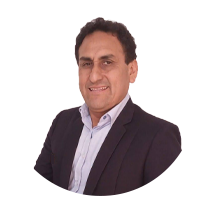 Ivan Ortiz
CEO of Capital House
"Using Mycard Teams and devices like Mycard Metallic helped us generate 35% more revenue from our business relationships and tables last month"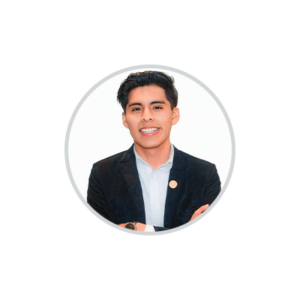 Abel Ge
Founder of Inversiones
"I love Mycard. Makes life meeting people a lot easier. It is a magical experience every time I use it"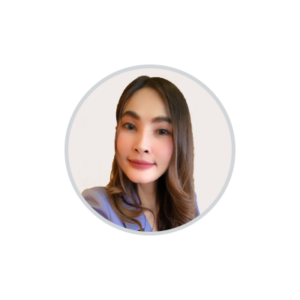 Sudarat S.
Founder of Engineer & construction Ltd.
We help professionals network better with time-saving and eco-friendly technology.
Before Mycard, the accepted way to exchange info with someone was to hand them a paper business card or give them your phone to manually type info in. As curious entrepreneurs, we saw an opportunity here to use technology instead of paper to create a new way for humans to connect with one another…
We see a future where every team and individual can seamlessly connect using our all-in-one platform, bridging the gap between in-person relationships and online connections.
A huge part of our culture at Mycard is focusing on sustainable solutions that help the environment. Mycard uses technology instead of wasteful paper to connect professionals, saving forests around the world. Goodbye paper business cards, hello Mycard.
Frequently Asked Questions
See All FAQs
How long does it take to get my team setup on Mycard Teams?
Using bulk creation tools such as instant sync with Azure Active Directory, CSV import and bulk creation of cards from scratch, Mycard Teams allows you to have your team setup with digital cards within seconds.
Bulk edits, templates and card duplication make editing multiple cards quick and easy. Our platform also handles member invites, ordering of free Mycard devices and device activation automatically, allowing you to spend minimal time on setup.
What happens if someone leaves my team?
When a member leaves your team, our dashboard allows you to deactivate their digital card and re-assign their Mycard device without needing the device physically with you. The digital card and device can then either be claimed by a new member of the team or removed for good.
Of course, all leads captured by the deactivated member will still remain accessible to the admins via the Leads tab.
How do we capture leads with Mycard Teams?
Mycard digital business cards are designed to capture leads quickly and efficiently. Leads can be captured in 2 ways:
– Via the customizable "Save Contact" form that is on every digital card
– Via Lead Capture Mode™ which instantly captures leads when a member uses their QR code or Mycard device
Does everyone on a team need Mycard accessories in order to use Mycard Teams?
No, Mycard teams can be fully used without Mycard accessories. Our platform can provide a full end-to-end solution using just custom in-app QR codes or branded digital wallet cards (Apple and Google).
Does everyone on a team need to download the Mycard App in order to use Mycard?
No, Mycard Teams can be fully used without having everyone download the Mycard App. Our platform provides a full end-to-end solution with just the Mycard dashboard and branded digital wallet cards (Apple and Google).
Digital wallet cards can be instantly added to each member's Apple or Google wallet by simply scanning a QR code on the Mycard dashboard.
How many members do I need to use Mycard Teams?
Mycard Teams can be used by teams of any size ranging from 2 members to 100,000+ members.
Why is Mycard the best digital business card platform for my team?
Mycard is the best digital business card option for teams because it is the only end-to-end solution that includes all of the following:
– Team Management Dashboard
– Lead Collection Features (2-way instead of 1-way connecting)
– 5000+ CRM Integrations
– SOC 2 + GDPR level security and compliance
– Largest variety of tap-to-share smart products
– 24/7 Customer Service
– 50+ link and content options
Ready When You Are
Get started with the #1 Digital Business Card Platform
WhatsApp: +66 83 925 4165
Email: system@mycardthailand.com